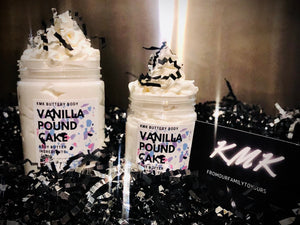 KMK
Buttery Body
Regular price
$11.00
$0.00
Unit price
per
Handmade

Description
Packaging: reusable 4oz and 8oz jars
 
This head-to-toe body butter was whipped especially for you and your family. It was created with all of the very best natural ingredients. It can be used on your littles ones hair, face and body as well. This amazing body butter is available in some wonderful kid as well as adult loving fragrances. Choose your favs from our collections! This luxurious Whipped Body Butter is great for all skin. Body butter starts out the consistency of a thick cream, and melts into a liquid oil on contact with the skin which is quickly absorbed. This specialty blend is formulated to moisturize, replenish, and repair your beautiful skin creating a glow for the desirable skin you already have. We recommend using it before bed or right when you get out of the shower. This body butter doesn't contain any water, and is also preservative free. Please be sure not to introduce water to this product. Store in a cool, dry place. Enjoy!! 

Ingredients: Shea butter, Natural oils, Essential Oils.

Kaden's Eczema Relief has the same effects as the other body butters but is especially designed for those with dry and extremely sensitive skin. Made with 100% fresh ingredients this body butter will bring relief to those dry itchy discomforts and restore refreshing skin cells!  

Ingredients for Kaden's Eczema Relief: Shea butter, natural oils, natural juices. 

IMPORTANT DISCLAIMER: None of the health topics and products sold and presented at KMK have been evaluated or approved by the FDA. They should not replace personal judgment or medical treatment when indicated, nor are they intended to diagnose, treat, cure, or prevent any disease. Always talk to your physician about the use of our products.
We can not be responsible for any allergies or adverse reactions to this product.
Avoid contact with eyes. Keep out of reach of children.Do not swallow.
 


NATURAL PRODUCTS & WEATHER
We do not use stabilizers or preservatives in any of my products. Everything is completely natural which makes it vulnerable to the weather. Shipping during cold or hot weather may cause freezing or melting. This will definitely alter the texture of many of our products... specifically our whipped butters, and scrubs. If the product has melted when you receive it, put it in the refrigerator for a few minutes so it can resolidify. If the product is frozen, allow time for the product to heat up to room temperature. Also, whipped butters will not appear full in the jar after they have melted. You are not receiving less product, it is still the same amount you would have received in a full jar if the product had not melted.
We will not reship or offer any refunds for products that melt during shipping. Melting does not affect the wonderful skin nourishing benefits and the products are still completely safe to use.  
---